ACBH Housing Services to Join New Office of Homeless Care and Coordination
HCSA established the new Office of Homeless Care and Coordination (OHCC) prior to the start of the Novel Coronavirus Pandemic (COVID-19). Ms. Kerry Abbott currently leads these efforts as the Director of the OHCC.
With the establishment of the OHCC, all ACBH Housing and coordinated activities also transitioned to the oversight of Director Abbott who now partners with ACBH staff and stakeholders on a variety of coordinated care issues impacting the Behavioral Health population. Although ACBH no longer oversees a unit dedicated to specific inter/intra departmental coordination, we are committed to continued partnership with the OHCC's county wide efforts; and continuing to review ACBH's client specific needs.
For housing related needs or requests or additional information, please feel free to contact the Office of Homeless Care and Coordination directly.
Pathways to Housing – Seeking Rental Units
Alameda County is currently offering incentive programs for landlords/ property owners that have available housing units to rent in an effort to help permanently house residents experiencing or at risk of homelessness. The program offers a number of benefits to landlords/ property owners, including guaranteed on-time monthly payments, resident support services and financial incentives such as payment of a security deposit, a $4,000 damage guarantee, and additional cash bonuses for qualifying property owners.

*Note: At this time our initiative is in particular need of 1-Bedroom and Studio units.

Building strong and lasting partnerships with property owners is a critical step towards ending homelessness in Alameda County. Identifying available housing units will also enable those exiting temporary housing in county hotels and motels as part of the State's Project Roomkey to be placed in safe and stable housing. If you, or someone you know has a housing unit for rent, please call 510-777-2100 or email ACHomes@acgov.org.
Read more about our initiative in this
recent piece by KQED
(12/23/20)
Home Together Plan
On August 4th, 2020, the Alameda County Board of Supervisors approved the "Home Together Plan" to guide the County's next steps and future investments in addressing homelessness.
The Home Together Plan is informed by a comprehensive needs analysis of the countywide homelessness response system, and months-long collaborative effort with homeless service and housing providers, County agencies and regional organizations. The plan makes recommendations for addressing homelessness in Alameda County through new investments and system improvements.
Read the Home Together Plan here (PDF - 0.4 MB)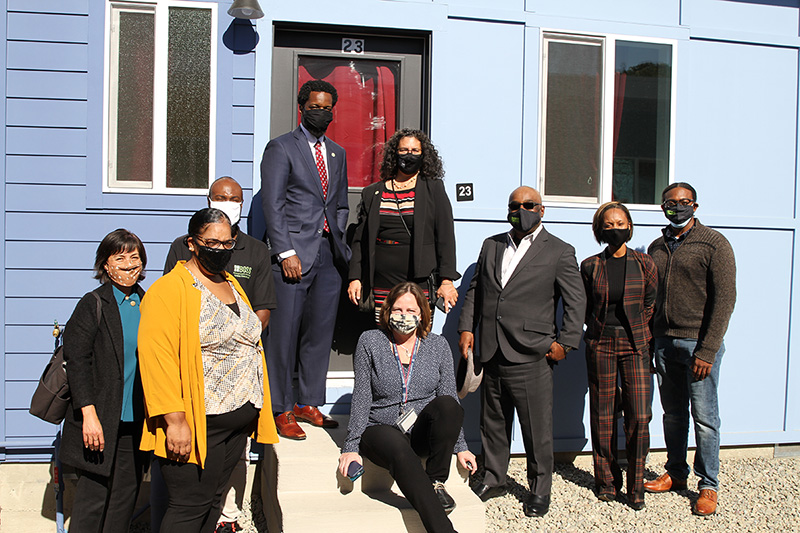 U.S. Interagency Council on Homelessness visits Alameda County
On October 14, 2021 U.S. Interagency Council on Homelessness (USICH) Interim Executive Director Anthony Love and Regional Coordinator Helene Schneider (CA, AZ) met with leadership from Alameda County's Health Care Services Agency, including the Office of Homeless Care and Coordination. USICH representatives toured sites throughout Alameda County including Project Roomkey and Homekey locations, the Fairmont campus Safe Parking site and Navigation Center, as well as encampments and homeless shelters.
USICH represents 19 federal agencies working on strategies to end homelessness. With an emphasis on Housing First and evidence-based strategies, USICH recently began preparations for the creation of a new Federal Strategic Plan to Prevent and End Homelessness; submission of public input and feedback on the plan is due by November 30. For more information and to submit comments on the plan visit www.usich.gov/fsp.
Check back for the latest events.