About Project Roomkey Alameda County
Updated April 6, 2022.

Over 1,300 homeless people have moved from Alameda County's Project Roomkey hotels into permanent housing. This achievement is a result of the incredible work and collaboration between our non-profit community of providers, the Alameda County Office of Homeless Care and Coordination and additional partners throughout Alameda County.

Project Roomkey Alameda County continues to prevent the spread of COVID 19 by providing isolation and quarantine locations for people who are COVID+ or exposed, and safe shelter for people who are homeless and at high risk for complications from the disease. Project Roomkey has assisted people from every city and the unincorporated area in Alameda County. In Safer Ground sites, we are only able to accept referrals for people who are homeless with conditions that place them at highest risk for complications from COVID-19.
There are two types of Project Roomkey sites:
Operation Safer Ground sites serve people experiencing homelessness who are over the age of 65 or otherwise at high risk (medically fragile), or both.
Operation Comfort sites serve people experiencing homelessness and who 1) tested positive for COVID-19, or 2) are experiencing signs and symptoms of COVID-19, and/or have been exposed to COVID-19.
For more information on eligibility and referrals, please contact covidhousing@acgov.org
Project Roomkey Occupancy and Status – as of March 25, 2022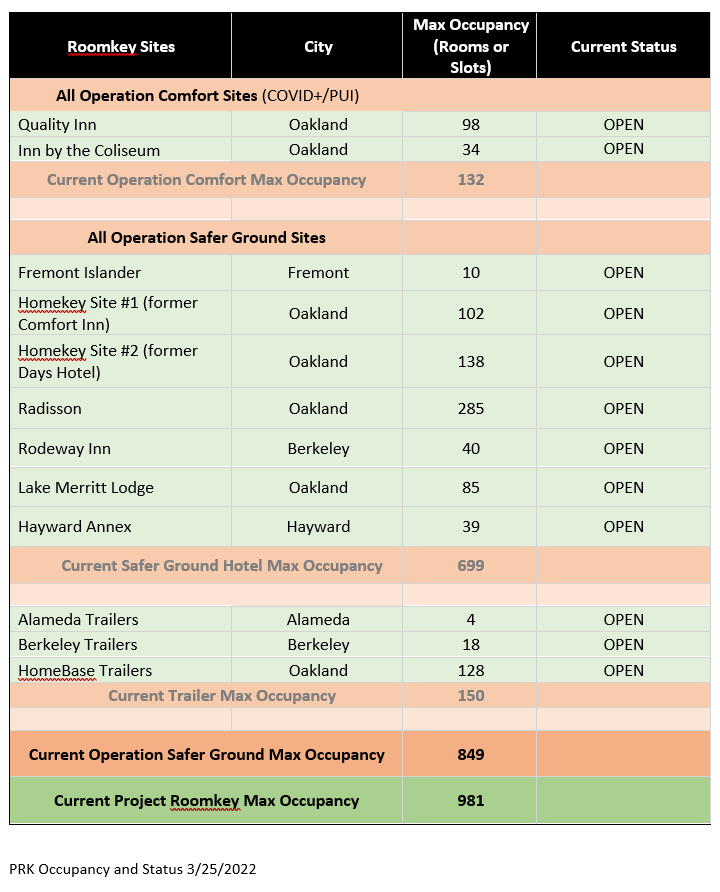 Operation Safer Ground: Stories of Success
Vacant hotel rooms offer step toward stable housing in California - Marketplace

Rosemary is a mom with 5 children all under the ages 7, 2 of which are special needs. She was a survivor of Domestic Violence. She and her family due to COVID and the pandemic came to stay at our PRK site early summer of 2020. During that time they experienced many setbacks. Due to untreated medical conditions of mom she found herself faced with COVID. She was one who ended up in a coma and with some love and support from family was able to make it back to the hotel. At the hotel she received support from the staff and the nursing staff. For Rosemary it was important for her to push on and continue to live for her children. She was connected to a doctor and began working on her health. When the PRK program hotel closed she and her family moved to another PRK hotel site but Rosemary continued working with all of her supporters. She had a great care team. Once again Rosemary had another setback, her sister who was the biggest family support passed away leaving Rosemary feeling hopeless and depressed. Her care team all came together and continued supporting her. It was in September 2021 Rosemary and her family moved into their new home (Oakland Housing Authority units), just in time for two of the little ones to have their birthday in their home. Rosemary has been such an AWESOME mom, doing what she needed to do for her children. "It's really wonderful what has happened to me and my family because of your program and all the help and support I've received, we are in a much better place now and we are safe. We are safe from domestic violence and the pandemic and my kids are healthy, happy and safe". Rosemary's health is getting better every day because she has a roof over her head and a place to call "home" for her and her family.
Stories from Operation Safer Ground, Radisson Hotel, Oakland:
After some initial transition, one of our PRK guests began working with staff to get connected to mental health, housing navigation services. This person was able to get connected to full wrap-around services, including the re-start of SSI, and at the end of October they moved into permanent housing.
One of our elderly guests came to us with no family connections and with limited ability to speak English. This person had been chronically homeless for over a year. During their stay at the Safer Ground hotel this guest was able to connect with doctors, receive a much needed cataract surgery on both eyes, as well as additional home support services. We recently referred this guest to rapid rehousing.
A pregnant guest came to our Safer Ground site having received no prior prenatal care. She was able to work with a housing navigator to get connected to a doctor and the medical care she was in need of. This guest was recently housed and had her baby! They are doing great and remain connected with the housing navigator as supplementary support.
Click here for more stories of success.
---
Latest Project Roomkey Data
A new study finds that the Project Roomkey has improved outcomes for people experiencing homelessness. The study reports that, compared to typical shelter models, Project Roomkey's non-congregate shelter model paired with on-site healthcare services has made shelter more appealing to people living outside, helped address long-standing health needs, and found housing for those exiting the program at a rate nearly double that from traditional congregate shelters.

Operation Safer Ground: Overview of Clients Served and Exits
As of 11/12/21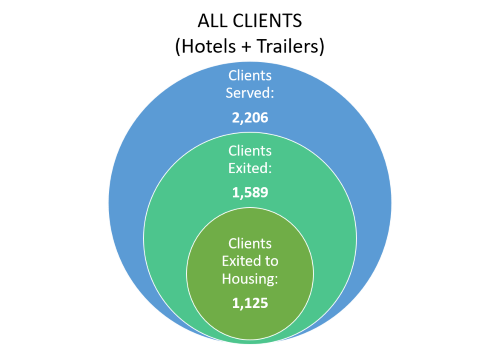 *Additional exit destinations include: shelter/ temporary housing, medical/ treatment facilities, and other destinations


Safer Ground: Demographics – Combined Race and Ethnicity*​
As of 11/12/21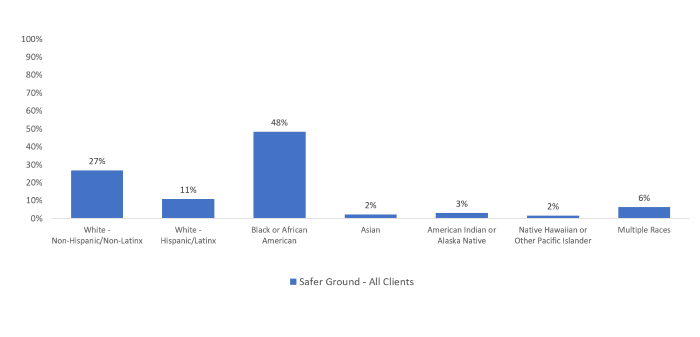 Operation Safer Ground: Monthly Exits to Housing