Project Roomkey hotels have provided temporary housing for more than 3,800 unsheltered residents in Alameda County as part of California's emergency response for COVID-19.
Check here for Project Roomkey updates.
Project Homekey
Project Homekey is another state program to house unsheltered individuals. The state awards funding that allows municipalities to purchase and rehabilitate hotels, motels, vacant apartment buildings and other properties, and convert them into permanent, long-term housing. Both Alameda County and the City of Oakland have received Homekey awards to acquire and transition the following hotels into permanent supportive housing within 36 months. To date the following projects have been approved by the State:
Alameda County

Comfort Inn- 100 rooms of PSH
Days Hotel- 140 rooms of PSH

City of Oakland

BACS Houses: 110 deeply affordable housing units
Clifton Hall: 42 deeply affordable housing units
Inn at Temescal: 21 deeply affordable housing units
Alameda County's Housing and Community Development Agency is accepting proposals from developers for the rehabilitation and operation of two Alameda County-owned Project Homekey buildings. The developer selected through this process will rehab and operate the buildings as permanent supportive housing for people experiencing homelessness under a 55-year regulatory agreement. More information and the RFP can be found at http://www.acgov.org/cda/hcd/. Proposals are due on September 13, 2021.
Pathways to Housing – Seeking Rental Units
Alameda County is currently offering incentive programs for landlords/ property owners that have available housing units to rent in an effort to help permanently house residents experiencing or at risk of homelessness. The program offers a number of benefits to landlords/ property owners, including guaranteed on-time monthly payments, resident support services and financial incentives such as payment of a security deposit, a $4,000 damage guarantee, and additional cash bonuses for qualifying property owners.

*Note: At this time our initiative is in particular need of 1-Bedroom and Studio units.
Building strong and lasting partnerships with property owners is a critical step towards ending homelessness in Alameda County. Identifying available housing units will also enable those exiting temporary housing in county hotels and motels as part of the State's Project Roomkey to be placed in safe and stable housing. If you, or someone you know has a housing unit for rent, please call 510-777-2100 or email ACHomes@acgov.org.

Read more about our initiative in this recent piece by KQED (12/23/20)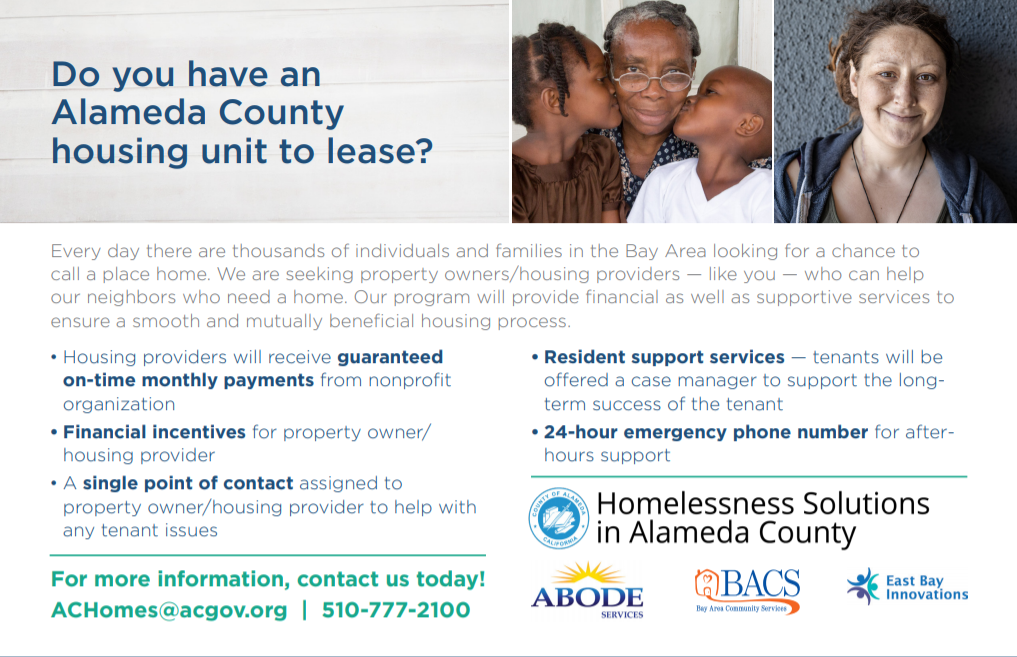 Tiny Homes
In August of 2020 the Alameda County Board of Supervisors approved the construction of 34 'tiny homes' for homeless residents on the Fairmont campus in unincorporated Alameda County. The tiny homes community will allow homeless residents to be housed in structures with individual bathrooms and cooking areas. The project is expected to be completed by Spring of 2021.